Eyelash and Nail Salons are transforming to "fast paced"!DIY eyelashes and the is a new trend in the eyelash industry.
Unlike individual eyelash extensions that are meticulously applied to each natural lash, cluster extensions consist of a group of multiple lashes bonded together at the base.
This cluster is then attached to the natural lashes, creating a fuller, more dramatic look. Cluster extensions are usually made of synthetic materials ( PBT )and come in a variety of lengths and styles, perfectly meeting the DIY at home needs of beauty lovers.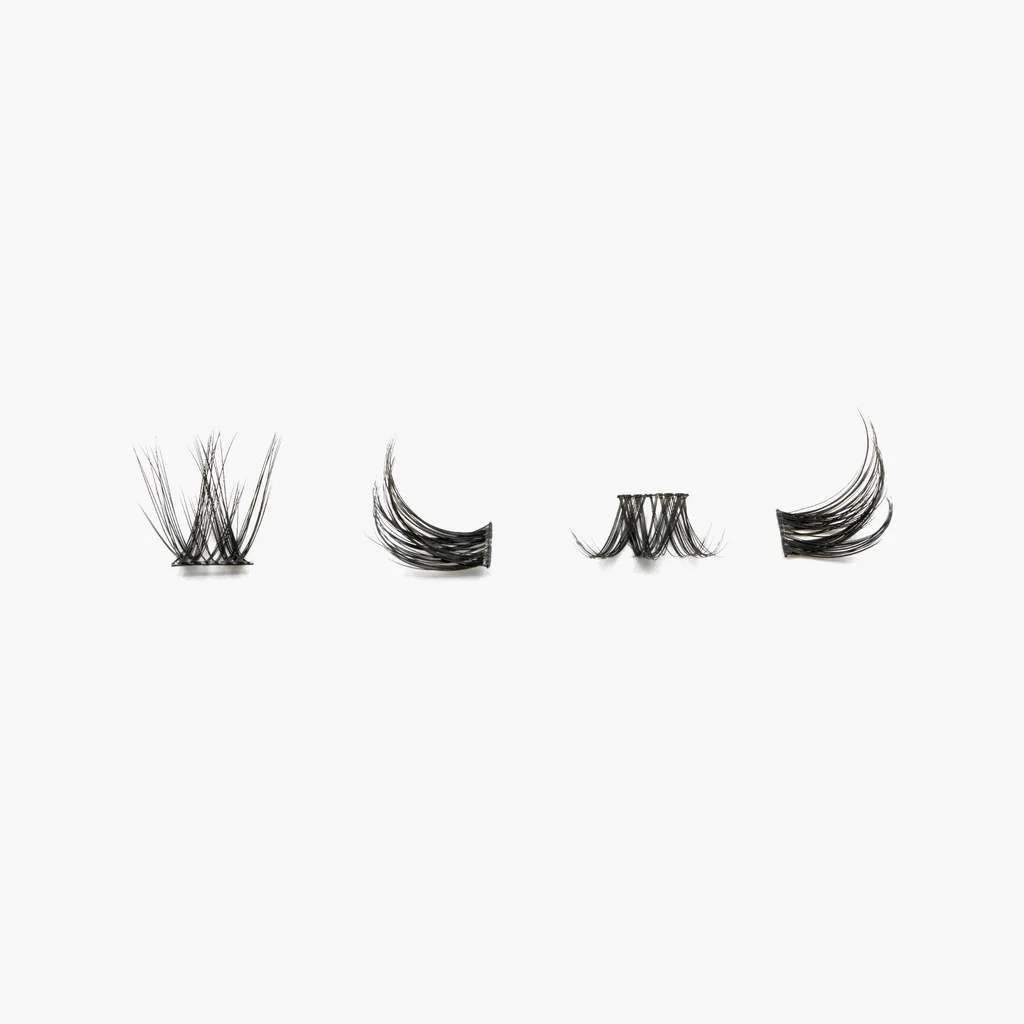 PROS of DIY LASH EXTENSIONS
Reusable
While this does not necessarily apply to professionally applied extensions, your DIY lash extensions are completely reusable. They just need gentle cleaning and drying between wears, and they'll last for months.
Time saver
You'll save time doing your eye makeup, Because no more mascara and eyeliner for you!
They can get wet
Professionally applied extensions can get wet, and even DIY lashes can tolerate getting a little damp.( As long as they don't come into contact with water for a full 24 to 48 hours after application )
Highly Customizable
Strip lashes are not customizable at all(as you see them in the package you place them on your eyelid completely) But you may want lashes made with thick fibers or thin wispy ones, or even a combination. DIY lashes can satisfy you.
More Comfortable
DIY lashes are lighter weight than strip lashes, so they don't feel as bulky on your lash line. They are segmented (3-5 pcs one eye) to better fit the shape of your eyes so they are more comfortable
Durability
We've already discovered the overall longer lifespan plays an important role. Another thing to be considered is that strip lashes are more likely to lift and come unstuck mid-wear. DIY lashes are far less likely to lift in the same place, but if they do, they're easier to fix.
MIX LENGTH IN A BOX
CUSTOMIZE PACKAGE
1 We have our own designer, so we can customize your logo
2 We can customize the lashes length ( fiber length, band length)
3 We can provide you with packaging of different materials and printing of different processes
4 We can provide you with high quality DIY lashes tweezers ( can customize your logo )
5 We can provide you with all the accessories you need ( bond glue seal removal )
HERE ARE THE DIY LASHES APPLICATION GUILDLINE