Single and Mixed length of M curl easy fanning lashes
M curl is the new curl on the block! It's perfect for lifting the outer corners and creating that purrrfect cat eye styling clients LOVE!This on trend curl is the latest curl to come to the market in the ever changing lash industry and offers an alternative to the L curl.
A-RIX 0.05mm easy fanning eyelash extensions are very lightweight and fine lashes suitable for multiple Russian Volume fanning techniques. Lashes are available in a wide range of curls so you can choose which look you want to create for your clients!
Available in both single and mixed length trays making it a great product if you're new to lash extensions, as it contains our most popular lengths!
What are 0.05mm Easy Fan Lashes?
0.05mm Easy Fan Lashes are premium synthetic lash extensions designed for volume lash applications. They feature an ultra-fine diameter of 0.05mm and are crafted to self-fan, simplifying the process of creating stunning volume lash sets.
What is self-fanning technology?
Self-fanning technology allows each lash to automatically fan out when you pinch the base, creating a voluminous fan. This innovative feature streamlines the application process and ensures consistent results.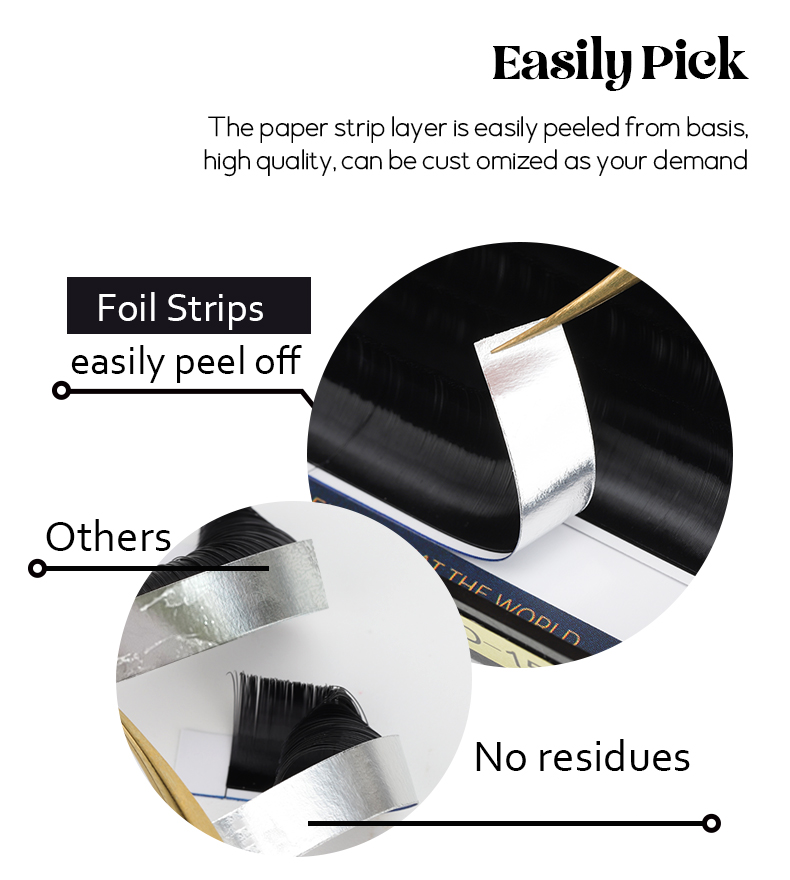 How do these lashes differ from traditional volume lashes?
Traditional volume lashes require manual fanning, which can be time-consuming. The 0.05mm Easy Fan Lashes self-fan, saving you time and effort while providing precision and uniformity.
Are these lashes suitable for beginners?
Yes, these lashes are beginner-friendly. The self-fanning feature simplifies the application process, making it accessible for lash artists at various skill levels.
Do the self-fanned lashes stay open during application?
Yes, these lashes are designed with a residue-free formula that ensures the fans stay open and beautifully fanned out, enhancing the overall volume and texture of the lash set.
Can I achieve both natural and dramatic looks with these lashes?
Absolutely. The 0.05mm Easy Fan Lashes come in various curl patterns and lengths, allowing you to create a wide range of volume lash looks, from natural to dramatic and everything in between.
Are these lashes lightweight and comfortable to wear?
Yes, the ultra-fine diameter (0.05mm) of these lashes makes them incredibly lightweight and comfortable. Clients will hardly feel the weight of the extensions on their lashes.
Do I need special tools for applying these lashes?
While special tools like tweezers and lash adhesive are essential for lash application, the self-fanning feature of these lashes eliminates the need for manual fanning, making the process more straightforward.
How do I ensure a secure bond when applying self-fanned lashes?
Dip the base of the self-fanned lashes into a small amount of lash adhesive to ensure a secure bond. The adhesive will help the fan adhere to the natural lash effectively.
Are these lashes cruelty-free and ethically sourced?
Yes, these lashes are crafted from premium synthetic fibers, making them cruelty-free and ethically sourced.
How can I purchase the 0.05mm Easy Fan Lashes Self Fanning Residue-Free Volume Set?
Visit our website or authorized retailers to explore and purchase the 0.05mm Easy Fan Lashes Self Fanning Residue-Free Volume Set. Enjoy the convenience and beauty of effortless volume lash application.